After another film season has passed, it is time to look back on the past year in the industry. The following are the films that most spoke to and appealed to me, from 25 down to 1.
25. The Great Gatsby
Borrowing its foundation from one of the truly great American novels, Lurhmann's film is an indulgent, borderline epic romp that is wildly entertaining. With help from a celebrated soundtrack built by today's biggest stars explicitly for the film, it bridges nearly a century's worth of cultural shifts, putting its audience into narrator Nick Carraway's story, one that is almost as elegantly as its source material.
24. The Spectacular Now
This one may not be based on a novel that every high schooler is forced to read, but it comes from a common identity that every high schooler is forced to live. Perfectly directed by James Ponsoldt and perfectly acted by leads Shailene Woodley and Miles Teller, the plot of The Spectacular Now surrounds two seniors falling in love and the dramas of life that they have to deal with. I always (really, always) say that the plot of a movie is not necessarily what a movie is about. What The Spectacular Now is about is so much more. You have to see it to feel it, and feel it you will. Perhaps that twinge is different for everyone. My me it was affection because I know so many people who are like those depicted. Perhaps for others it will be remembrance or regret or optimism, but for sure, you will feel it.
23. To The Wonder
Terrence Malick's follow-up to The Tree of Life may not be the transcendent cinema of its predecessor, but that is not to say it is not triumphant in its own right. Eye-opening performances from stars Olga Kurylenko and Ben Affleck especially, followed as well by Rachel McAdams and Javier Bardem are the filler, just like a magnificent painting thatalso happens to be encased by the best frame around. That frame is Emmanuel Lubezki's photography, a staple of Malick's films, that is at its Days of Heaven best, making To The Wonder one of the most awe-inspiring and beautiful understated films of the year.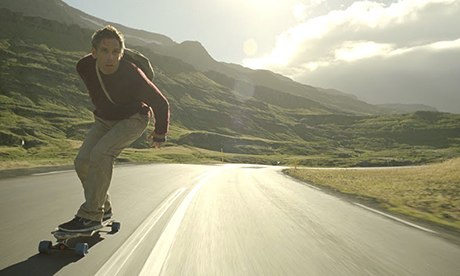 22. The Secret Life of Walter Mitty
Ben Stiller poured his heart in soul into the adaption of a classic James Thurber short story, basing this one around the final days of the print issue of Life Magazine, featuring volcano eruptions, tangerine cake and eHarmony. This might have been the inspirational movie of the year, impressive for a year marked by films about survival and courage. Stiller's Mitty is just as awkward as you want him to be at the beginning and just as fresh as you expect him to be by the end, not going an unrealistic amount in either direction. The fact that fewer year-end circuits recognized the films gorgeous locations and meticulous production is striking to me. Maybe Stiller is greasing the wheels for a Ben Affleck-esque career turn.
21. Spring Breakers
In a candy colored exploration of contemporary hedonism, Harmony Korine is at his finest, crafting a film that begins as an overindulgent masculine fantasy and progresses into one of the few great crime thrillers of recent memory. It is just as ridiculous as it sounds, and it was clear how inventive and intelligent its creators were from the get go, which only became clearer as we progressed. Four girls in bikinis being confronted by a judge alongside headstands in the hallway, a Gatsby-esque parade of material goods alongside a repeating clip of the girls riding their little scooters, and those are just in the first fourty minutes. James Franco completes the ensemble by submerging himself into a role as a wanna-be ganster/ wanna-be rapper.
20. The Kings of Summer
There might not be such an original and of-the-moment film in the teen coming-of-age genre as The Kings of Summer. Joe and Patrick run away from home along with the hilarious Biaggio and construct their own home in the middle of the woods.  Here they grow up. They confront their own newfound freedom and discover their individual limitations, fight love and loss and even snakes. This is a movie that no one would not enjoy.
19. Fruitvale Station
The true story of the final day of Oscar Grant's life, which resulted in one of the most important social revolts in the history of the City of Oakland, is depicted in the 2013 Sundance winner, Fruitvale Station. Michael B. Jordan shows that he is for real in his first truly great screen performance, juggling the conflicting historical accounts of Grant. The film works both assuming that everyone knows how it will end, and accounting for the fact that many people might not. Ryan Coogler could emerge as a great filmmaking talent in coming years, as his debut with Fruitvale Station was a great success.
18. Captain Phillips
Tom Hanks stars as the real life shipping captain who was held by Somali pirates after they boarded his ship in the Indian Ocean. Barkhad Abdi plays the leader of the attackers. These two performances carry a film that contributes to its genre by pushing boundaries and exploring often ignored elements including the homes of the Somalis and the aftereffects of being held hostage. Greengrass is clearly a talented director, and the action sequences show it. Also, this movie will forever have a place in culture, if only for the phrase, "I'm the captain now."
17. Rush
Ron Howard's newest film reminds us all of the intimate paradox of rivalries: one rival needs the other, they feed off of one another. Like the Joker famously states in Nolan's The Dark Knight, "Kill you? Why would I kill you? What would I do without you? You complete me." Nicky Lauda and James Hunt had a similar dynamic in the racing community, and their story is brought to life with commendable truth in Rush. It tells the story of these dueling heroes without picking a favorite, glorifying their trade with dialogue and of course razor sharp editing that inserts the audience into the race, the driver's seat, the engine.
16. In A World…
A satire like In A World has not been seen for a long time. It is Lake Bell's directorial debut, but you would never know it. This movie manages to stay funny enough even to bury its feminine undertones and boast universality. It is about being categorically dismissed in a world that you know you belong, and when you know you have earned it. The frolicking ending is as entertaining as can be and it tempts and teases viewers in a unique way. This is just about as good as indie comedy gets.
15. 12 Years a Slave
With incredibly emotional visuals and striking dialogue, 12 Years a Slave occupies the role of obligatory historical race drama starring literally everyone for 2013. From Steve McQueen, director of Shame and Hunger, this is a movie of great emotional weight. It presents its subject matter with no reservations and a commendable commitment to the true story of Solomon Northrup. It is a powerful movie, if in ways that may not be terribly unique or creative, but McQueen employs the old tricks apologetically and it works wonders. This is a movie that won the top Oscar in a year of very good movies, so I'll let that title speak for itself.
14. The Book Thief
Personally, the impact of The Book Theif, based on the young-adult novel of the same name, was this: I sat in the theater through the credits and I walked the four miles home rather than utilize public transportation. This is not a movie that makes you feel good. It is the opposite. It is among the most potent and thoroughly melancholy films I have seen. It may not make you feel safe or warm, but it most certainly makes you feel something. The depression that this movie made me feel wasn't what I'd hope for most people, but I welcomed it, because good or bad The Book Thief made me feel a lot more than real life, or any other movie, had made me feel in ages.
13. Dallas Buyers Club
The great war for a generation of Americans was the AIDS epidemic that climaxed in the 1980s. Matthew McConaughey plays Ron Woodruf, a man who refuses to accept that hospitalization with HIV is a death sentence. This is the movie that got Mr. McConaughey his Oscar, capping off an incredible run of great acting over two years. This is a movie that shoots its subjects perfectly, and with McConaughey's great performance and other solid turns from Jennifer Gardner, Jared Leto and Steve Zahn to boot, it becomes a memorable movie about memorable characters in spite of its historical frame work. This truly is a movie that is in this moment.
12. Much Ado About Nothing
This is, without a doubt, the best cinematic adaptation of a Shakespearean comedy to date. It is simply hilarious and the original words from the great theatrical master convert effortlessly into the dialogue for a modern retelling. That actors are perfectly cast and the photography pulls no punches. It benefits from all of Shakespeare's work: the classic genre story, the witty exchanges and the gratifying climax. It also benefits from the film medium by way of interesting shots and new renditions of jokes that are a staple of modern romantic comedy. Honestly, this movie is fantastic.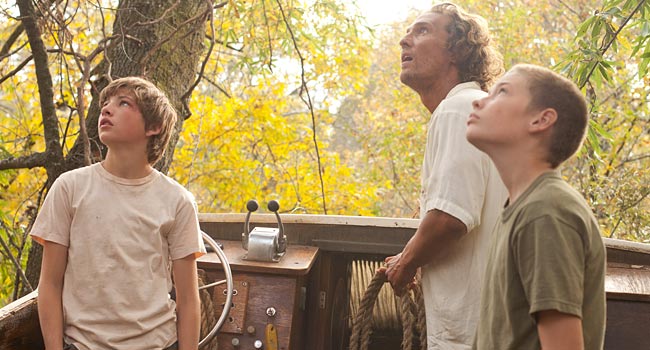 11. Mud
From Jeff Nichols comes an indie drama that plays like a modern epic. With a flavor not entirely different from what might be expected of a Mark Twain adaptation, Mud uses its setting as a lead character. The river, the delta, the state of Arkansas are the driving forces of the imagination in Mud. That refers equally as much to the imagination of young protagonist Ellis and to Nichols, who has a knack for excellent characters framing intimate stories. Here, McConaughey gives what might have been the best performance of his career, truly rivaling the aforementioned Dallas Buyers Club, and the camera creates a beautifully poetic look at life down by the river.
10. All is Lost
"This is the Virginia Jean with an SOS call- over." All is Lost opens with a tragically honest narration based on a letter from our protagonist stating his regrets and fear that he may never make it home given his situation. Then we go eight days earlier, as the nameless mariner's ship is struck by a drifting container somewhere in the south Indian Ocean. The next few hours are an unspeakable thrill, carried by the score of the year from Alex Ebert and a career cementing performance in the epic return of Robert Redford.
9. The Place Beyond the Pines
In spite of flawless direction, photography that is married to the plot, and possibly career best turns from Eva Mendes, Bradley Cooper and Ryan Gosling, this movie is far more powerful for its story and its writing than anything else. It is moral tale about fathers and sons, about a man and his bike, about an officer and his duty. Cianfrance creates a film that mustn't only be watched, but truly understood. Family is central to the story, and in that sense it is a movie that is more relevant today than any other point in history. It is about what one man is willing to give and what one man must give in order to protect and support his family. It is about you and it is about me. The Place Beyond the Pines is a movie that matters.
8. Short Term 12
Dustin Cretton's passion project is an indie about a woman who must battle her own past and inner demons while also treating and minding children at a foster care facility. That is incredibly weighty material but the cast and writing handle it with perfection. The performances, particularly from Lakeith Stanfield and the brilliant Brie Larson carry this movie to a greatness that couldn't be achieved by lesser actors. It is just light enough to avoid being terribly dark and includes a fair amount of uplifting spin, from cupcakes to American flag capes.
7. Inside Llewyn Davis
When I saw this film, I was sure that no other movie this year could best it, which goes to show how great the rest of this list is. Certainly my favorite film from the Coens, who are transitioning from reputable filmmaking stars to fully fledged icons of the industry, Inside Llewyn Davis packs a breakout performance from the extremely talented Oscar Isaac. As Llewyn, Isaac plays only one of the films many fascinating characters, which include jazz musicians, Columbia professors and even a cat. It is equally witty and heavy, detailing the inner workings of an every man looking to breakthrough in a field he loves. Llewyn could be anyone, doing anything, but the historical role he plays in the birth of the folk renaissance makes the film significantly more interesting than any movie about a starving artist taking a road trip has any right to be.
6.  Gravity
This is a movie of remarkable vision and creativity, by far the most of those attributes of any movie in this short decade. Alfonso Cuaron deserves every accolade and more than he has received for Gravity, because it is remarkable in nearly every way. This is, without a question, the most important movie of 2013. Its religious undertones are scholarly and sublime, and its visuals are literally like nothing we have seen before. From a creative standpoint, Gravity is about as much as can be asked from cinema. It is a gift to the art form that we all seriously need to take the time to count our lucky stars we have been awarded.
5. Frances Ha
The most complete character of the 2013 film year is Frances Hallaway, written by Noah Bombach and Greta Gerwig and played by Gerwig. It is atruly modern story that packs enough romance, drama, commentary and especially comedy for anyone and everyone to enjoy it. As 20-something Frances fights her way through just an average life in the big city, so do we. As an audience, we pain for Frances, laugh with Frances, and simultaneously envy and pity Frances. This comedy team truly struck gold with this one.
4. Her
"Falling in love is a crazy thing to do; it's kind of like a form of socially acceptable insanity." This statement from this film is meant to apply to all kinds of love, but in this universe of the slight future imagined by Spike Jonze, it more specifically justifies falling in love with a computer. This movie is the closest I have seen to an utterly believable view of the future, achieved through are-provoking city-scapes and carefully created set pieces.  It considers a very specific romance between very specific characters, but truly speaks to humanity and relationships in general. Jonze contemplates the socializing aspect of romance by contrasting it with the negative stigma that spending too much time with technology makes you anti-social. He explores the relationship between the varying purposes of this technology, a computer for example, meant for work and play it can serve as a tool and as a gaming device. Samantha, also a tool, is his escape and his true love. Her is a triumph.
3. The Wind Rises
From the legendary creator of Spirited Away and Ponyo among others, Miyazak's The Wind Rises might be the least recognized movie on this list to American audiences.  Until further notice, it is the Japanese animator's final film, and what a triumphant farewell it was. This movie is loosely based on the life of Jiro Horikoshi, an engineer who designed airplanes for his native Japan during the Second World War. The title comes from a motif in the film, the reading of a Paul Valery poem, translated as: "The wind is rising, we must attempt to live." Life is the bold subject of the movie, and viewing it allowed me to live, with a smile from ear to ear through every frame. It is a charming reminder of what traditional animation is capable of, and no one has been better than Miyazaki at creating unique characters with unique idiosyncrasies in this medium. The Wind Rises is a virtually flawless creation, maybe his finest, and it saddens me to know there is no more coming from the master.
2. The Wolf of Wall Street
Any movie that makes me reconsider the top of the list of the great Martin Scorsese films must be a masterpiece, which The Wolf of Wall Street is. Everything about the Scorsese-DiCaprio tandem is on full throttle for this epic romp about indulgence and the cost of money. Leo lets loose and the camera follows. Add another brilliant soundtrack to the Scorsese collection. Really, almost everything about this movie is as good as it gets. Some critics say it is important to categorize films, and to judge them based on "how good is it for what it is." Well, The Wolf of Wall Street embodies so much about the craft of movie making and touches all genres, and it is great in every sense.
1. Blue is the Warmest Color
Known overseas as La vie d'Adele (The Life of Adele), this is a historic and bold romantic drama that captures the female coming of age better than any film on the subject of young love ever has before.  It is honest and unrelenting and it makes these distinct individuals feel completely realized through great performances and filmmaking creativity in spite of language and many other barriers. The protagonist, Adele, is a perfect character, breathed into life by director Adellatif Kechiche and actress Adele Exarchopoulos. She is as real as movie characters come, and when the credits rolled I immediately missed spending time with her.
Alright, now I have made my picks, so I invite you to tell me why I am wrong. Tweet at me @BrALatham with a movie you think should be here and the link to this listicle and I will retweet it. Here's looking forward to 2014, and I'll see you at the movies.